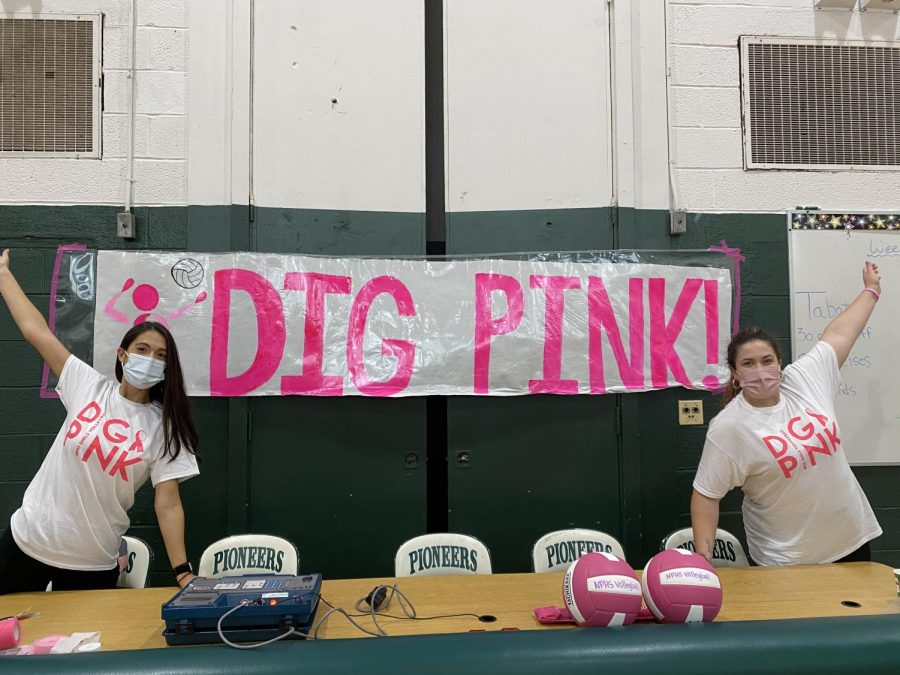 Sweat drips down the sides of their faces and onto the court as their fingers twitch with adrenaline and their legs strain with the squat motion they hold, waiting for the ball to come over the net.
And in one motion, it does.
The ball shoots over the net. Olivia Catalano #12, digs the ball. The crowd goes wild. Hayden LaRocque Green #10, swiftly plants her feet and raises her hands over her forehead, her ponytail swinging as she barely touches the green ball and sends it back to Catalano. With a snap of her wrist, the ball shoots down to Summit's Libero who loses control as the ball bounces off her arms. The ball sails into the net and hits the floor.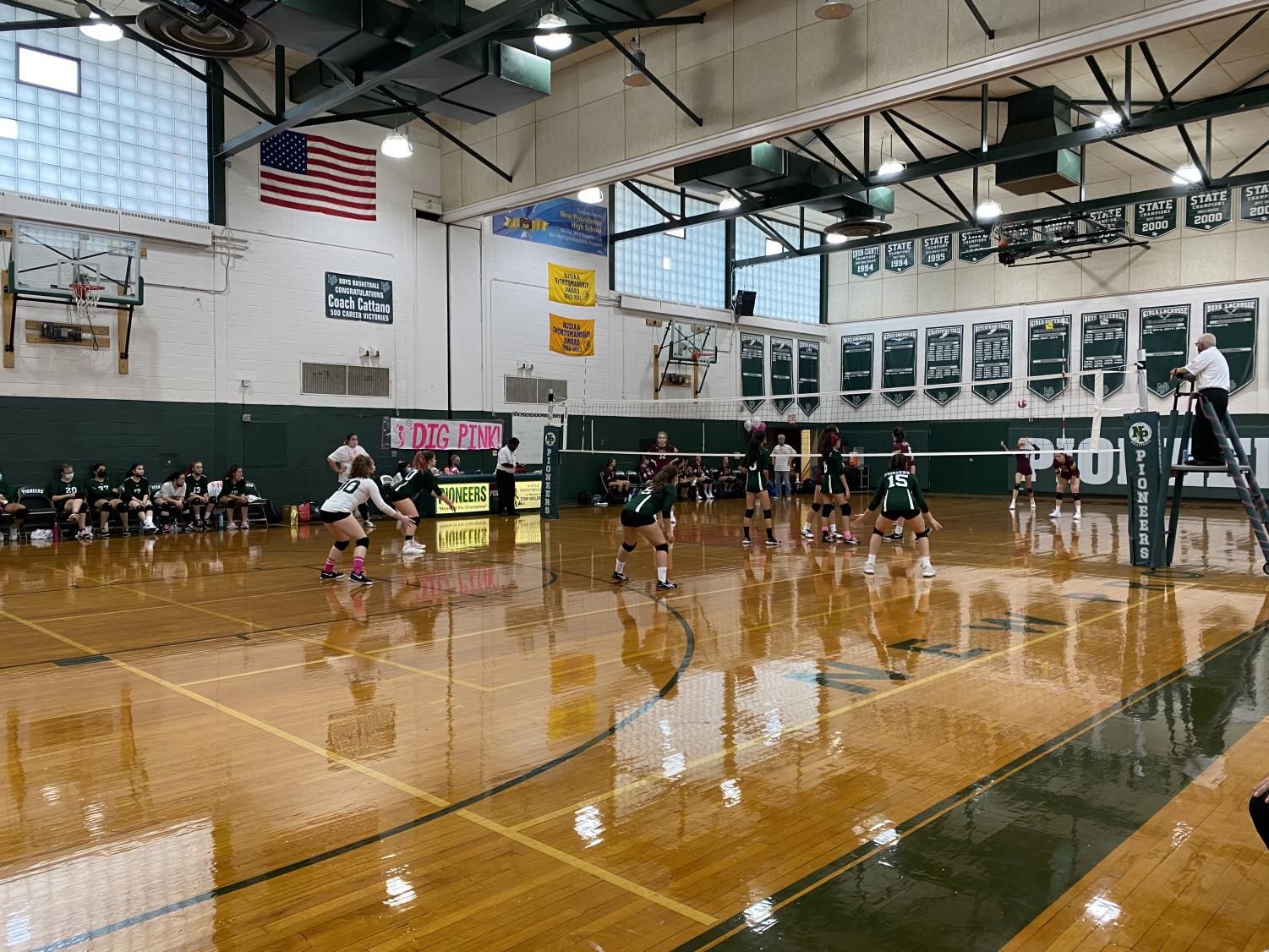 New Providence cheers as they receive the point. 
The NPHS varsity girls volleyball team played against Summit High School in the Dig Pink game on Friday, October 28 at 5:30pm.
The team consisted of Mikayla Lawler (Senior, #3), Sara Mishkind (Sophomore, #4), Kalina Kornacki (Senior, #6), Alexy Eng (Junior, #7), Megan Barlow (Senior, #8), Angela Chen (Junior, #9), Hayden LaRocque Green (Junior, #10), Olivia Catalano (Junior, #12), Shonchori Mukherjee (Senior, #15), Dani Bloom (Senior, #17), Sarah Vegura (Junior, #19), Nia Nunez (Senior, #20), Hannah Kowalewski (Senior, #24), Dinara Sheridan (Sophomore, #30), Oliva Mulqueen (Junior, #37), Francesca Corbishley (Senior, #44), and Alanna Williams (Senior, #48).
Dig Pink is a volleyball tournament played at NPHS, supporting the Side-Out Foundation. This foundation is an American non-profit breast cancer charity that raises awareness and funds for the treatment of metastatic breast cancer. While it is normally on a Saturday, this year, the game was played on a Friday evening, pulling in students, faculty and families.
Head Varsity Coach Alessandra Finis said:  "This game is more of an event than it is a competition. My hope each year is that my athletes, and those of the opposing school, know that this isn't about who will win, but how we can come together doing something we enjoy for a good cause."
According to the World Health Organization, in 2020, there were 2.3 million women diagnosed with breast cancer. In the past 5 years, 7.8 million women have been diagnosed with some degree of breast cancer, making it the world's most prevalent cancer.
Barlow states that "Dig Pink is an opportunity for our team, the school, and the community to raise awareness for a disease that has embedded itself within the lives of so many individuals. Not only are we able to give back and raise awareness…but we are able to have fun in the process with back-to-back volleyball games, Serve-to-Win games, and bake sales."
According to Lawler, the fundraiser "is lively and exciting." With so much to do and so many people to help support the cause, this game is always one to look forward to.
But even with the lighthearted fun and excitement, there is still a game meant to be played.
In their previous game, New Providence was able to beat Summit in a set of 2-0.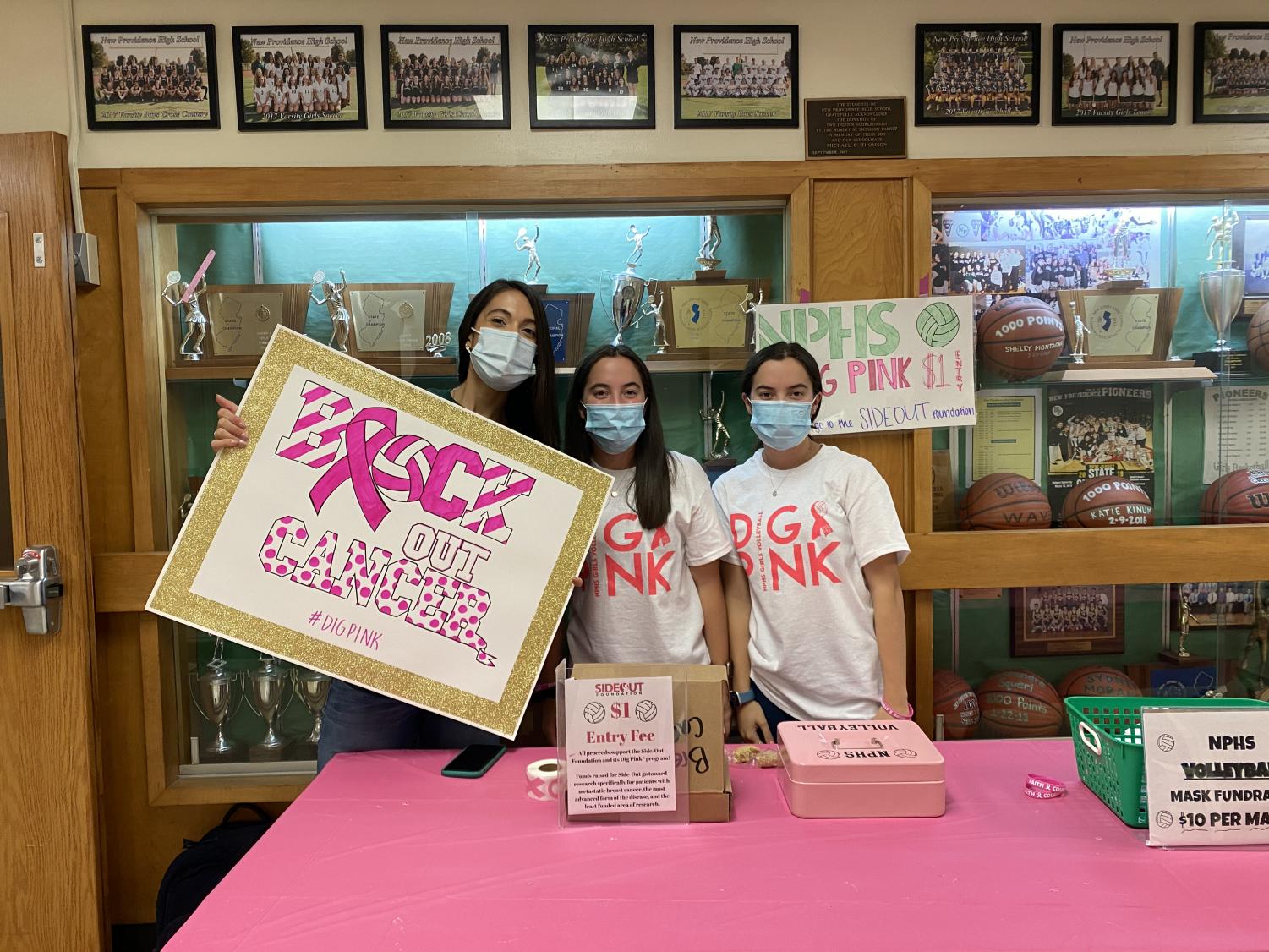 Many players, like Catalano, were hopeful to do it agian: "Although I am a little nervous for this game because Summit is a very difficult team, I am excited for everyone to be cheering in the stands."
However, even with all the excitement, the game did not go as hoped for the Pioneers.
Summit beat New Providence in 2 set wins. Summit is now currently ranked #2 in the Mountain division with a 11-3 record. New Providence is currently ranked #4 in the Mountain division, with a 7-6 record.
However, despite the loss, the team was not discouraged.
Vegura stated how even with this loss, it was amazing to watch her teammates play against such a competitive team and to see how far the girls have come since the beginning of the year:  "[The] team has really improved defensively this year. We have made it a point to communicate more and I can see a lot of the things we talk about in practice being applied in games which is awesome."
 Mr. Henry, NPHS Principal, agreed. He stated that it was a great experience and that the turnout for the fundraiser was very impressive and a great opportunity for everyone to get together to support a cause.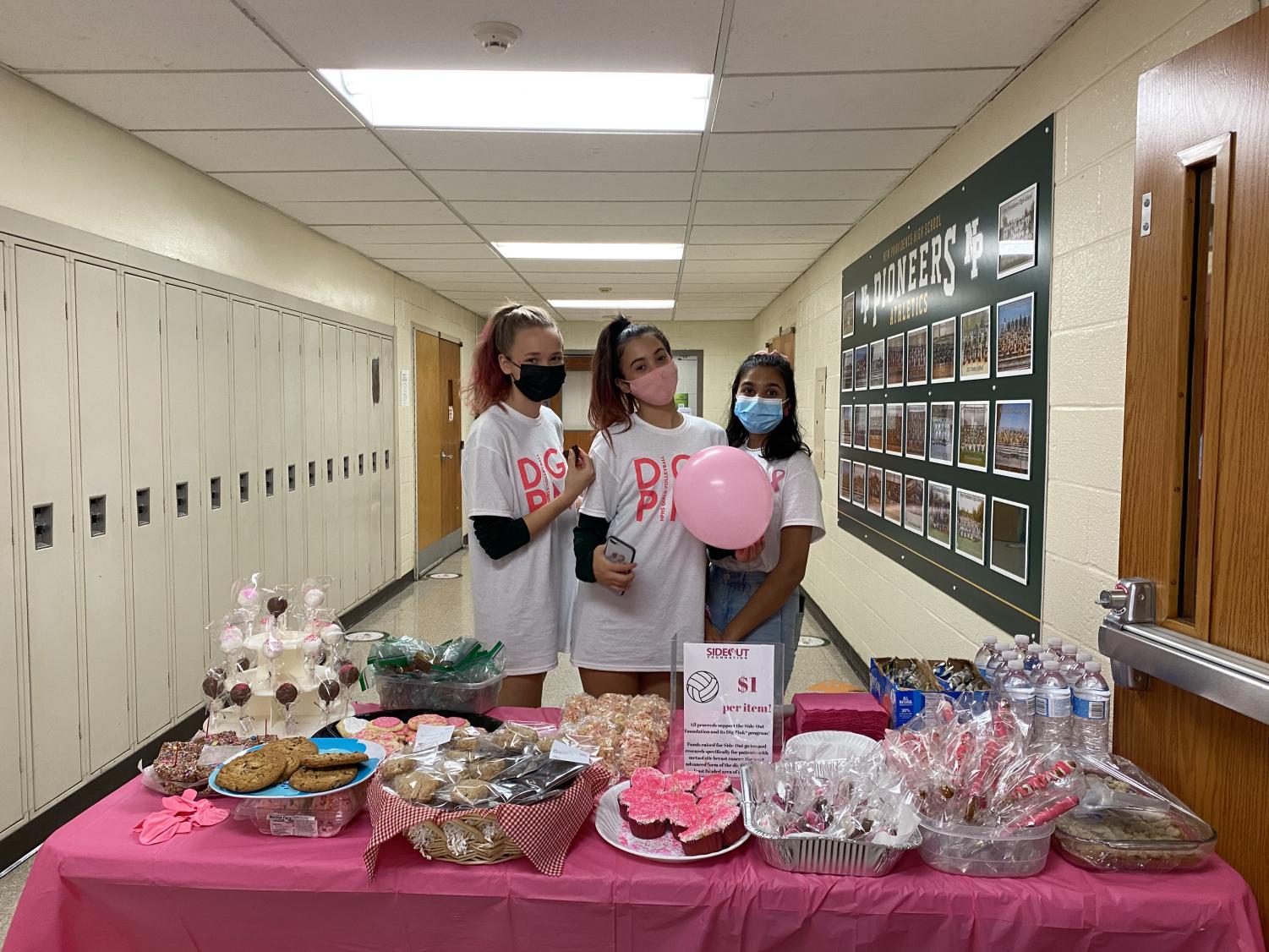 Froshmores Timea Juhasz, Emma Berry, Fenia Poteni, and Chloe Muir all agree that this fundraiser will be something they look forward to as they continue their volleyball careers.
New Providence was able to raise $1,700 from the effort, which will be donated to the Side-Out Foundation.