Give Me a… Mrs. J!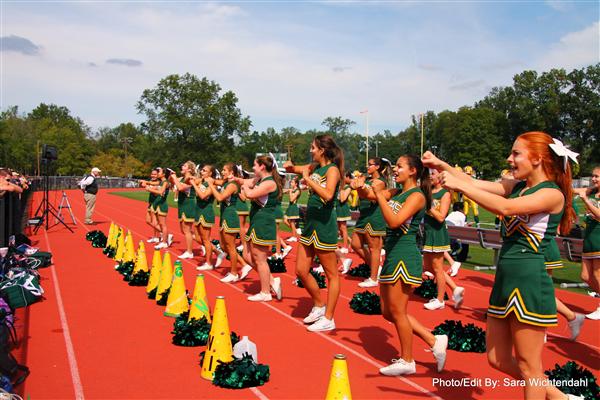 Alexis Jacqueney, teacher at New Providence Middle and High School, teaches Photography, Drawing and Painting, Photoshop and Digital Art and Design. She is also the current cheerleading Head Coach, alongside Coach Roggerman.
When and why did you start coaching?
I started coaching softball when I was in middle school by helping to run clinics for elementary school girls. Early into my teaching career, I was hired as a head coach for a junior varsity softball team in another district but because I worked in another district, I was unable to take the position. I have always loved coaching, especially at the High School level because I have always wanted to help my students better themselves in as many facets as I could.
Cheerleading has always had a special place in heart ever since I was a cheerleader in High School. When the opportunity presented itself last year, I knew I owed it to myself to go for it.
What was the biggest challenge have you faced as a coach?
I firmly believe that every day presents a challenge; how we approach the challenge is what helps us build character and shows us our strengths and weaknesses. My biggest challenge as a coach is helping my team face their own challenges, understand their own individual strengths and weaknesses, and then work together as team to overcome those challenges. My biggest challenge in life will be ongoing; it is to do whatever I can to have my daughters, the two people who look up to me the most, be proud of their mother. I want to be there for them and support them every way I can.
What are your goals for the current competition season?
 My goals for my team for the current competition season was never about winning. I want my girls to be respected as athletes. There are so many misconceptions about this sport that in order for the future of my program to be successful, the team and the sport needs to be respected.
What do you love most about working with the cheerleading squad?
 What I love so much about my squad is that they are constantly striving for more. No matter how grueling a practice can be or even the conditioning or running the same thing over and over, they want more. What I love even more than that is they push their own limits. What makes any great team so great is that they never settle.
What changes have you noticed since the season started?
  I suppose the same thing that I have said in the previous question. Last year was the first year they started with me and there were huge improvements from the year before. This year it is like there is a whole new team again because I truly believe they were encouraged to do more. The competition aspect was a big factor because they know they are being viewed by others outside of their own town. I have received nothing but amazing feedback about this year and I believe it is all because of the cheerleaders' hard work and dedication to my vision for this program.
What are your plans for next year?
With the program possibly doubling in numbers, my goals is to have more teams and more levels to the teams. I would love to go to competitions with more than just one team too. When it comes to "cheer," there really is no such things as "next year" but rather "next season." I make all of their music by April/May and choreograph their routine/cheer by June so that each of these are ready for Camp in August. The girls only have two weeks to learn everything, so it can be overwhelming at first but luckily, there are many days in between game days that allow us to practice and amplify each portion of the whole routine.
What advice do you have for future/current cheerleaders?
Do not be afraid to try something out of your comfort zone. Cheerleading is all about utilizing your skill set and building from it. "Failure is not the opposite of success, it's part of success." One of my favorite things about cheerleading is that you can always learn something new. In other sports you work hard to master the same skill sets but in cheerleading, you work hard to master many different skill sets.
Is there anything else you would like to mention?
I could not be more proud of my team. Each and every girl brings their own personality to the group and yet we make it work. I just want to thank my team because I believe that the trust we have created in one another is what is making our team works so well. Remember, this is only the just beginning of what is to come.