NPHS Cheerleaders Flying High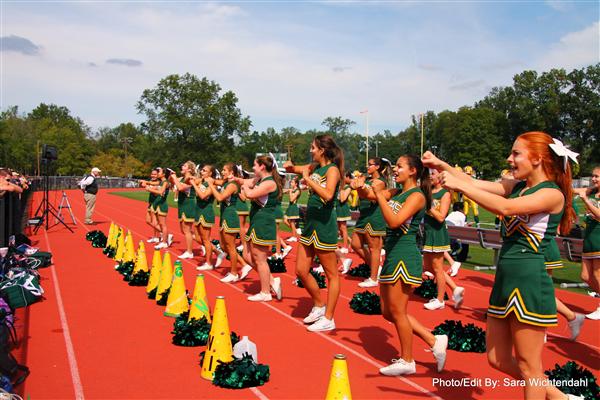 Cheerleading is taking New Providence High School by storm. With their confident cheers and beautiful routines, cheerleading has become more popular than ever. People of all ages watch, their mouths hanging open in amazement, as flyers soar through the air, weightless and angelic; the tumblers flip gracefully and easily; and the moves of the dancers are audacious and energetic.
Without the right music, the cheer is only half complete. When asked about her song choices, Varsity Coach Mrs.Jacqueney laughed:  "This year I wanted to kind of have this flashier kind of music…music that you could travel with. Something the crowd could be a part of. I was feeling voguish."
This year's cheerleading team is bustling with excitement and approval of their new team captains. For the Varsity team, Nicole Jankowski hopes to lead her team to the top with assistant captains Reilly Lazas, Devon Everton, and Victoria Gill.
A new member of the team, Ugne Naujokaite, describes what it is like to be the only Freshmen Varsity cheerleader: "Being on varsity as a freshman is pretty cool, but it is a lot of pressure and hard work. As long as I attend all the practices and pay attention, I will be able to improve. Overall, it is a pretty cool experience!"
Not only is the Varsity team feeling excited for a great season, the JV team is also ready for some action! Coach Rachele Petronella has high hopes for the girls as they are led by captains Shyyanna Higgs and Olivia Glenn.
Higgs states, "The group of girls that I am with daily has become my second family and I care for them so much. This season, I am excited to make new accomplishments like bonding with the team of new girls that we got this year…"
Now that we have the teams, it's time to understand what a cheerleader actually does. It's no longer just a sport where you wave pom-poms in the air. As Coach Petronella explains, "Cheerleading has evolved tremendously and is more than just standing on the sidelines or standing in the bleachers yelling cheers."
Cheerleading is now a real, serious sport that pushes people to their limits. Both coaches agree that the cheerleaders condition a lot more than other people thought. Considering that they are constantly pushing their bodies to twist, fly or tumble in new ways, their bodies must be prepared to do anything.
For competitions, these girls push themselves harder and harder to make every move, throw and yell perfect. When asked about the competitions, Head Coach Jacqueney replies, "If we have an 8:30 competition start time, they are here, at the school, at 5 o'clock in the morning… when they're here, we practice, from 5 to 6,  and then they'll eat something quickly, and then we get on the bus and we're gone. And we're not back until 4 maybe 5 o'clock at night sometimes."
Unfortunately, not everyone shares the same enthusiasm as others when it comes to cheer. Some people still do not see cheerleading as a serious sport. Many see it as a pastime or something someone does for fun. They do not see the time and effort that these people put into just making a 2 1/2 minute show. However, how many people have enough strength to throw someone in the air and catch them at the exact same moment every single time? How many people have enough flexibility to do a spilt in the air? How many people have enough balance or speed when doing a flip, midair?
"With cheerleading, if you don't throw something the exact same way every single time, it's not a ball…it's a person. So it makes it a sport…it's so different" explains Mrs. Jacqueney.
Cheerleading also requires a lot of teamwork. The teamwork on the cheer team also reflects into their everyday lives. Since cheerleading is not a one person sport, people are required to work together and get along.
Coach Jacqueney explains, "I think, it's a whole thing about being part of your school. I think there's a lot of involvement in it. It really keeps you a part of your community. There's just a whole different side of cheerleading, where, it's not just the team. They do a lot more for other teams."
The involvement, dedication, persistence, strength, and enthusiasm of our cheerleaders adds a lot more excitement for the games at our school, but nobody ever seems to thank them for their hard work. The cheerleaders take time out of their studies to help hype up and inspire the crowds to cheer their hearts out. Good luck to all of the cheerleaders in New Providence High School! Let's go Pioneers!