Annual Tree Lighting Brings NP Community Together
Last Friday, December 3rd, was the annual Tree Lighting Event at the municipal building in New Providence. At this event, the NPHS Select Choir and Jazz Choir performed, along with other vocal and instrumental performances. The event included ornament making, popcorn, hot chocolate, music, and finally the tree lighting. 
The Select Choir performed two songs, Home for the Holidays, and Ocho Kandelikas, which is a song sung in Ladino, a combination of Spanish and Hebrew. The Jazz Choir performed Winter Wonderland. The event also featured two vocal solos from graduates of NPHS, Katherine Ertman and Emma Peterson.
Ms.Crockett is the choir teacher for both the select and jazz choir and says "It was really exciting to connect our school with the community through singing."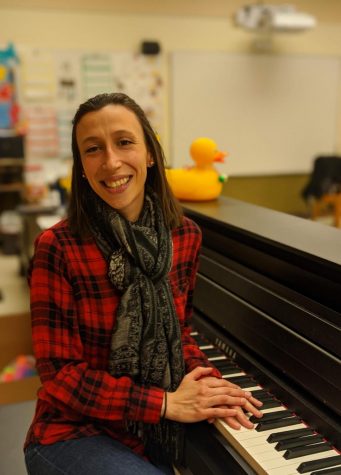 She also mentioned how nice it was to see so many people there enjoying the choir.
"There were a lot of younger elementary students in attendance and it was so lovely to see them light up when the high schoolers performed," she said.
This event happens every year and is something the community looks forward to. It also brings everyone together for the holiday season, which is something the choir is happy to take part in.
 "We are very fortunate to be in a town that is so supportive of our music and performing arts. Having the opportunity to share our art with them is really special," Ms.Crockett added.
Lily Coniglio, a freshman in the Select Choir, explained that the choir had been practicing since early October, and the process was fun and worth it.
She said:  "It was really nice to see all the younger kids. They were really excited to see us singing."
Additionally, Reese Hageman, another select choir freshman at the event talked about how her favorite part was "meeting all the other kids who are also interested in singing and music."