Spring forward with the newest Prom Fashion Show looks!
What is the one thing someone will remember about high school? It could be a teacher, a friend, or even winning a major award. For many, it'll be the prom experience.
Prom is a fun way for students to dress up, look their best, and acne the night away with their closest peers. But first, before the dancing, you have to be able to wow the crowd with your outfit that you have been searching all over NJ and NY for, looking high and low, in and around department stores as others rush to find a dress that looks suspiciously like the one you want.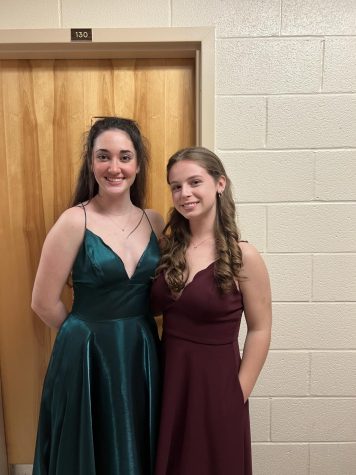 Each year, the PTSA hosts a prom fashion show. This show allows senior students to dress in past gowns to model them for underclassman, family, and friends. Many dresses and suits are donated to the school, however many are borrowed from siblings, old friends, or even bought (because sometimes it's too hard to just choose one outfit when they all look so good on you).
For the beginning of this year's show, Mrs. Forbes created a presentation dedicated to the high school students participating in the fashion show. Thomas Horan stated that it was the most memorable part of the night.
Ksenia Dontsova wore a ruby red gown that sparkled and shined at every angle:  "My favorite, but also the most inconvenient, part was the train. It was just the extended fabric at the back of the dress that I had to use two hands to wrangle so that everybody else doesn't trip on it. However, this managed to be a lot of fun!"
Megan Barlow decided to wear a maroon/burgundy high-low cut with a scalloped V-neck and spaghetti straps. And the best part? It had pockets!!
"I have been in love with my dress since I first bought it for my Sweet 16 back in 2019, and I have been looking for another occasion to wear it" she said.  "This presented the perfect opportunity to do so since we were unable to have a Junior Prom because of the Pandemic."
It wasn't just about dresses, though.  Many of the guys had fun with their suits. While a few wore the regular black and white suit, there was a wonderful mix of red, blues, white, slate greys, greens, and silvers. 
And that's not all. While everyone came to see the gowns and stunning students, Mrs. Forbes, the head member of the prom fashion show committee, had the students add a cute twist.
Every time they would pass each other to go show their outfits to the other side of the auditorium, the students would do a little handshake, dance move, or take a selfie.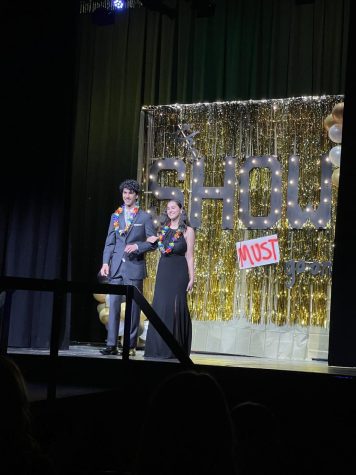 Dontsova recalls trying to come up with the mini scene:  "My partner was Lawson Gill. We were going to do a handshake if all else failed but after someone put another hat on top of Lawson's pre-existing one, he thought it would be fun to just trade a hat."
"My partner was Kevin Shan, and we decided on your first pose (the spins) at our rehearsal the night before, while our second pose (the dip) was decided right before we headed on-stage the night of the event. We mainly decided on these poses because they were the first to come to mind, " Barlow said.
Overall, everyone agreed that it was definitely a moment to remember and recommended it to underclassmen or anyone who is a bit hesitant about joining for next year.
"When else are you going to have this opportunity? At least consider it" Dontsova encouraged.
So, "pick a cool suit", as Horan would say, and take to the stage!
A special thank you goes to Mrs. Kate Forbes who had made a committee several years ago to make this year's fashion show possible.
While this year's theme was new for the students, Forbes explained that "preparation [for the show] actually started years ago!  We were 3 weeks from show time in 2020 when the world shut down so we actually stored a bunch of items since then.  That helped us at the beginning of the year. Gave us a head start on items for the baskets for the Tricky Tray.  But generally we start planning right after the holiday break in December."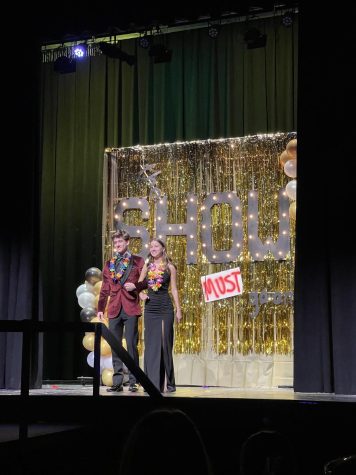 Forbes was initially approached to help with the fundraiser in the fall of 2013 when her oldest (Colin) was a sophomore. The person in the chair at the time wanted someone to shadow her so she could hand it off. Little did Forbes know that she would be running the event for the next 9 years.
This year's show was especially special for  as she "had so many feelings tied to it. It was a comeback after having to cancel it for 2 years. It was my last time doing it [and] my son's senior year. And the fact that I have been subbing in the school so much this year I really got to know the senior class."
Mrs. Forbes' three sons, Colin (who graduated in 2016), Caleb (who graduated in 2019), and Owen have all seen the craziness and passion their mother had put into her perfect projects:  "Every year that one of my sons has participated has a bittersweet feel to it.  I feel like senior year really helped me understand the term "bittersweet".  I feel like it is very sweet for the seniors, they are ready to launch and excited about their future but kind of bitter for me as I see my time and role in their life changing. Also because I tended to know more of the students in those classes, it made it more personal."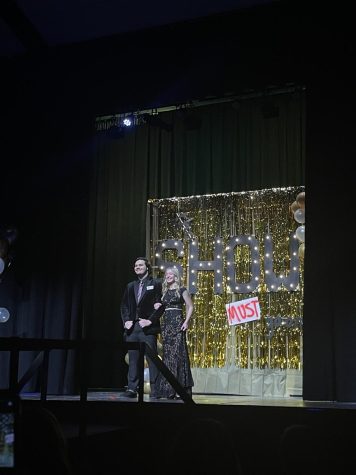 Mrs. Forbes found that it was important for her family to witness her passion, hard work, and dedication as "kids see and understand that helping those around you is important and beneficial to any community you are in.  Having a servant attitude and a willingness to step up and help others is a lifelong attitude that we as a family embrace."
The prom fashion show is a way for people to get together, dress up, and enjoy time together. Mrs. Forbes states that during her own student years at New Providence High School, she recalls doing the fashion show as well:  "I have no memory of the dress I wore.  I just remember that at the time, we did the show in the cafeteria and walked on tables as a runway, there were only a couple baskets to win, and we laughed a lot."
Just like Dontsova, Mrs. Forbes wants to ensure that no student regrets missing out on a great time: "It is such a fun night with your class.  It kind of kicks off the start of all the end of your high school career activities. Trust me – you will have fun!"
As a final thought, Mrs. Forbes stated. "It was an honor to serve as chair for 9 years but it is not possible without all the amazing volunteers who step up to help.  I regret that COVID took it away for 2 of those years.  It was wonderful to see it back again.  The event is not only a great fundraiser for the PTSA but a tradition for the seniors.  I hope this tradition continues.  I wish the next crew who takes this on, nothing but the best.  Take it, change it, mold it, transform it but just make sure it happens.  There are so many wonderful people in this NPHS community that are willing and able to help.  This event requires a lot of volunteers but really does run smoothly with everyone doing their part. "