Teacher Spotlight: Ms. Kretschmann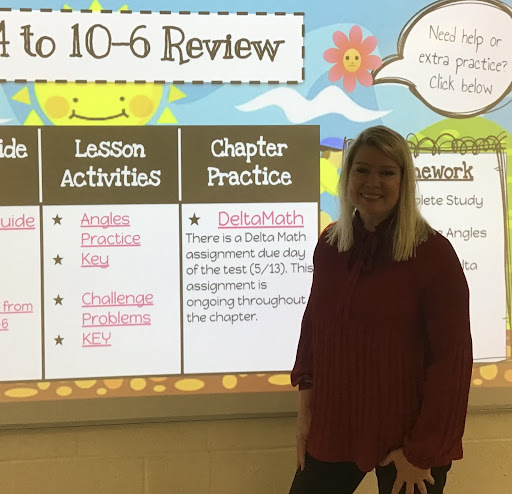 New Providence has a diverse and unique staff, each with their own personalities that they share with all of their students. Some are just starting out in their teaching careers, and some have been teaching since before their students were born. One of the many hard working, student-focused, and encouraging teachers at NPSD, and one who has been here longer than almost anyone else, is Ms. Kretschmann.  I interviewed her to find out a little more about her and her career, as she enters her final month of school before retiring in June.
How long have you been working at this school?
This is my 33rd year of teaching in the New Providence School District.  It is an honor and a privilege to be an educator in this District.  The parents are supportive, my students always give me their best, and the administration provides whatever  resources it can to equip us with the best technology and latest instructional techniques out there.
What type of work have you done with the school?
I have taught Middle School and High School mathematics – all levels.  It has been a privilege to teach the geometry and pre-calculus courses and see how this material synthesizes at the calculus level.
What were some of your favorite teaching moments/years?
My favorite teaching moments are watching students work problems out on the board together and seeing them experience the "Ah-Ha" moment.  Sometimes receiving instruction from the teacher does not click until my students have the chance to talk about the material with their peers and work on problems together.  It is so enjoyable for me to hear my students having conversations about math, seeing them support one another, and learning from each other as they share their strategies and ideas.
What made you decide to do teaching in the first place?
My Algebra I teacher Mrs. Taylor was my favorite teacher and she inspired me to become a math teacher. She won "Teacher of the Year" when I was her student in high school. 
What is one thing you hope your students take away from learning?
I want my students to learn that, as you get older, answers do not necessarily come about quickly – at school or in life.  I want my students to learn the art of doing independent research, listening to others talk about their thoughts, looking things up on their own, and processing information from multiple sources before they make a decision.  Self esteem comes from knowing that you can solve a problem or know where to go to get help to solve a problem.  This skill applies to all areas of life.
If you could come back as any animal (and it can't be a cat or a dog) what would it be?
I would come back as an eagle.  I have always been impressed with how high they can fly, how powerful their vision is, how tenacious they are when it comes to building nests and finding food, and how nurturing they are to their young.  They seem to be fearless and graceful – qualities that I have always admired.
Who is your favorite author, and why?
My favorite author right now is Malcolm Gladwell.  He has a smooth style of writing and genuinely wants to help the reader find success in life.  He is attentive to detail, he is conscientious, and encourages his readers to not dismiss radical and transformative thoughts that normally are discouraged by society.  He applauds willingness to challenge conventional wisdom and inspires others to read multiple resources and educate themselves to the best of their abilities in order to be a valuable resource to oneself and others.
What is your tagline? 
"Invest in yourself and make the world a better place."  Basically, spend your life making the best version of yourself that you can be, so that you can contribute more to the world.  Be a helpful resource to others, make positive contributions to those around you, and leave this Earth better than when you left it.
What is your favorite sport to watch or play?
I love to run, bicycle and swim.  Bicycling and running allow you to see the world while enjoying fresh air and sunshine, and burning calories.  Those activities keep you healthy both mentally and physically.
I love to watch IMSA car racing.  My favorite thing to do is go to the track (Watkins Glen being one of my favorite tracks) and watch the drivers push their vehicles to the limit.  Few people understand the extent of mathematical knowledge required by the guys in the pit crew, in the design team and the strategist of each team.  The driver of each car tests his/her brain and body to impressive physical and mental limits.  In the summer, I have seen drivers step out of their race car with the rubber on their shoes melted because the heat in the car reached over 100°.  It is impressive to see the drivers maintain their focus and sharp thinking in such severe situations.
Favorite movie star? 
Matt Damon.  He was outstanding in the movie Good Will Hunting.  My favorite line is "You spent $150,000 on an education that you could have gotten for $1.50 in late charges at the public library."
What do you wish they could fix or install at New Providence?
New Providence is one of the best districts in the state.  We have the ability to give each student an iPad, access to computers in the library, and provide money for students to play instruments and participate in athletic activities.  Our track is state-of-the-art, our music and art teachers are top of their class from prestigious schools, and our plays and musicals draw people from all over.  So, it is hard to pick something that would improve the already high quality experience that we have here in New Providence.  However, it would be nice to have more bathrooms for the instructors here in the building!  
What's your favorite country?
I have many favorites.  Paris, France is my favorite place to tour the beautiful architectural gardens that they immaculately care for there. 
Konstanz, Germany is lovely because of their well-groomed bicycle paths.  You can even pay for a ticket for your bike and bring your bike on the train with you to visit Switzerland or any other nearby country accessible by train.
Milan, Italy is fabulous for its architecture (the filigree lace and turrets with stucco work and figures on the roof of the Milan Cathedral are stunning).  Also, Milan has the "Teatro alla Scala" which is one of the finest opera houses in Europe.  I got to hear a symphony performance there and will never forget how uplifting the whole experience was.
Finish this sentence…. my favorite teacher was……… because…….
My favorite teacher was Mrs. Taylor (my Algebra teacher) because she was so calm, attentive to detail, her notes were thorough, and she always let us practice problems in class so that we could ask her questions before we went home and were on our own.  She was kind, knowledgeable, and brought me to her "Teacher of the Year" awards dinner.  She will always hold a special place in my heart.
Ms. Kretschmann brings joy to learning math, and gives students the help they need to succeed and understand. Her interest in teaching and working with each student, and giving them time to solve problems themselves, putting what they learn into practice is what makes her students successful. 
This year, Ms. Kretschmann will be retiring. She greatly appreciates her time here at New Providence, as do the students in return. The work that she has done has positively impacted the education and lives of all of her students, and gives students a chance to learn and enjoy doing it. Ms. Kretschmann says she doesn't know what the future holds for her, but she plans to always give back to the community. She is an inspiring teacher that will be remembered for her outstanding work with students.