What's Happening with Indoor Sports?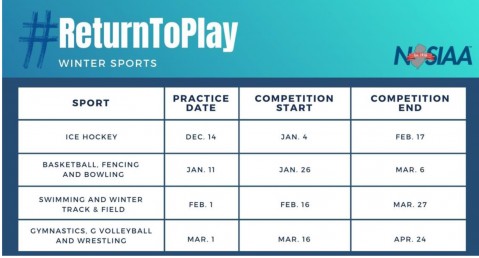 The New Providence High School administration has just announced that all winter sports will be postponed until mid-January.
Winter sports have to be done inside because of the cold weather. However, COVID is thought to spread quicker indoors. This is what led to these new developments.
"We are approved to follow the NJSIAA guidelines for different winter sports. Normally in a winter season, every winter sport would coincide with the same season dates. This year, they are staggering those [throughout different months]" said Vincent Carangelo, Athletic Director at NPHS.
An obstacle to the new seasons might be competition for gym time.
"That's going to be a very interesting challenge already, but with them being staggered it actually does kind of help with that. We were prepared to run wrestling, cheer, basketball, and track all simultaneously – we already had that plan in place. And then the NJSIAA made that announcement a couple of weeks ago and staggered the seasons, which actually made our lives a little easier from the gym perspective. The question would only be if volleyball is also during that time, then that would really change things," said Mr. Carangelo
How do the coaches feel about this alteration?
Arthur Cattano, the boys basketball coach, said, "I think in the long run it's a good thing, rather than starting the season and then being shut down later,"
A possible solution to the issue of indoor sports is that the players will have to wear masks.
"It definitely is a possibility that our players will have to wear masks. If that's the case we will make the best of it and monitor it as we go along," said Cattano
Cheer is another Winter sport that has been affected by the shutdown. 
"Since our season goes from Fall to Winter, we had already been in season. Typically, we would just continue through December, but we cannot due to government restrictions. It is hard as a coach not to be out there with your team and achieving the goals we have set for this season, including winning a State Title in our division," Claudia Ralph, the Cheer Coach, stated.
When asked about the possibility of wearing masks, Ralph said, "Cheerleading is entirely self-contained with the same people, which makes it unique to some other sports. Cheerleading is mandated differently than other sports, but we follow the mask guidelines of the NJSIAA, which requires coaches to wear masks at all times and athletes to wear them when they are not engaging in high-intensity aerobic activity."
Other winter sports that have been affected by the shutdown, for example, the swimming team, have had to make some adjustments.
"Of course mask-wearing will be enforced when in the pool facility, except when in the water practicing or racing.  Every swimmer will have his/her temperature checked upon entry.  Social distancing is enforced, even in the water in lanes by spacing out in lanes during practices.  Basically, following the usual safety protocols," said Walter Kempner, the swimming coach.
Swimming is a special case because they, obviously, cannot wear masks while practicing or competing. However, they have an additional safety advantage of being in the water.  
According to Coach Kempner: "The sport is safe as far as water contact.  The chlorine and chemicals are effective against the virus.  The issue is when swimmers are in contact above the water or in a pool facility."
But what about swim meets? Will people from other schools still be coming to compete?
Kempner explained the accommodation that has been arrived at: "As for meets, I think they will be held virtually.  Each team will conduct races in its respective pool, and then timed results from races can be merged to score the meet." 
Another winter sport that has been affected is volleyball.
"As a coach, I plan to follow all the guidelines and precautions from New Providence High School Athletics, the NJSIAA, and any additional sources needed to ensure the safety of my players. I am hoping that we have the same success as our outdoor Fall sports programs and can run a healthy season," said Alessandra Finis, volleyball coach at NPHS.
Volleyball is another sport that can be played with a mask on. But, does that mean that the players will have to wear a mask all the time?
"From what I understand, athletes will have to wear masks when sitting on the sidelines, on the bus, during team meetings, etc. From what I have observed of outdoor sports in the Fall, players do not have to wear masks while engaging in intense aerobic activities. However, these protocols could change or be different for the Winter and Spring seasons," Finis stated.
COVID has brought many complications to this year, including the changes in winter sports. But, the administration is working very hard to find a solution to these problems. 
"At the end of the day, we want to provide some form of opportunity, provided it's safe, for our students to play the sports they love with their teams and their coaches," stated Mr. Carangelo.