How Was It? First Year Teachers Recap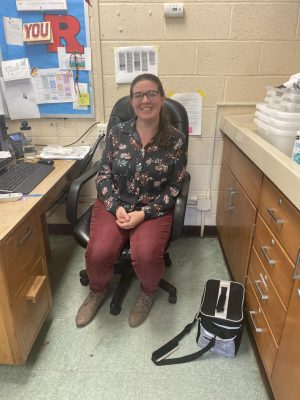 After last school year, New Providence High School hired multiple new teachers. Some of the new teachers are Ms. Matrale, Ms. Bleach, and Mr. Makmur.
Ms. Matrale is an English teacher, who teaches American Literature and Honors Humanities. Ms. Bleach is a science teacher, who teaches Biology and Environmental Sustainability. Mr. Makmur is a science teacher, who teaches AP Physics and Conceptual Physics. 
We talked to Ms. Matrale, Ms. Bleach, and Mr. Makmur to see how their first year teaching at New Providence went. 
How would you describe your time teaching here at NPHS?
Ms. Matrale: "I think that working in New Providence has been one of the highlights of my career thus far. Being that this is my 16th year of teaching, I feel like I'm in an environment where I am appreciated as an educator and as a mentor to my students." 
Ms. Bleach: "It's been fun. There's some things to get used to, like we switch the curriculum around a little bit. I've been working a lot with the other biology teachers. We've been having fun putting these lessons together. And this year has been nice because everyone's back in person. You can actually get to know students a little better so it's been great."
Mr. Makmur: "I have enjoyed my time here a lot. It has certainly been a transition and it hasn't always been easy, but teaching here has been very rewarding. Everyone at this school is kind, courteous, and caring. There is a lot of motivation to learn new things."
How is teaching at NP different from any of your previous positions?
Ms. Matrale: "In my previous positions, I have worked as a department chair, where my responsibilities were quite different. I was in charge of mentoring other teachers in my department, in addition to teaching six classes. My course load was much greater. While I'm here I feel like having fewer students and fewer classes allowed me to give my students far more attention than I've ever been afforded the opportunity to do so."
Ms. Bleach: "I had a few different jobs. Before this, I taught at New Brunswick High School and that's a bigger school. There are 2100 kids in that school. So it's definitely a lot bigger, and getting to know the students is much harder.  As a [former] zookeeper, some things are different, some not so much. Just like with animals, you monitor their behavior, kind of how they're doing for the day and if they seem stressed. You try to figure out why and address it like you would with students."
Mr. Makmur: "I have never taught at a high school before. My previous teaching experience comes as a grad student TA to the Intro Astronomy class at the University of Minnesota. It's a very different vibe when you teach college students since they are paying to be there. I think that I have been able to take the things that I have learned about students there and apply it here. I teach a glimpse into what college is actually like."
Is there anything you would've done differently this school year?
Ms. Matrale: "Absolutely. I think that it's really important for teachers to start new every single year. If we become creatures of habit, then we can't be good teachers. So there are many lessons that I need to tweak. There are things that I definitely want to change and improve upon just to make not only my experience better, but the experiences of my students."
Ms. Bleach: "Oh yeah, I mean, every year you learn from whatever you've been doing just a little bit. This was my first year teaching environmental sustainability, and I was able to spend time going through some of the labs I've done. Some things took longer than I thought and I'll modify a bit for next year. For biology and ecology, we'll probably do some more project based stuff. There's definitely things that I will tweak but that's the case every year."
Mr. Makmur: "I think the biggest thing I plan on changing is the approach towards problem sets. In physics, working on practice problems is really the best way to reinforce learning.  When I was in school these would be calculation heavy. Next year I may adjust this to lean a bit heavier on challenging conceptual questions, as that is more in line with what the AP likes to ask."
Are there any difficulties you faced during your first year teaching here?
Ms. Matrale: "I think my first number one challenge was the fact that I was coming in from a completely different culture. When I was teaching in Jersey City, the community was extremely diverse, and that's not necessarily the case in New Providence. So just making sure that I was meeting the needs of all of my students, and I met them exactly where they were. That was probably my biggest challenge, just acknowledging different experiences and definitely different needs of my students."
Ms. Bleach: "The curriculum here is much different and we're teaching certain things for more time here that I taught at New Brunswick. We spent more time on certain topics that we do here. So it's just a little different. I also lost all of my work from that school. So once you have a better base of certain topics, it'll be easier, instead of making some brand new things just adjusting and modifying stuff for next year."
Mr. Makmur: "Time management was the biggest thing for me. Having to write all of my material from scratch meant that a lot of my free time at home was dedicated to writing notes and work for class. This is hopefully a problem that won't exist next year. The other big thing for me was having to wake up early and be at work at 7 am every day again. I don't know how I survived high school having to start school at 7am every day, and it has been hard to get back in that zone."
What have you enjoyed most about teaching at NPHS?
Ms. Matrale: "I absolutely love my students. I think that's probably number one. It's nice to hear "thank you" at the end of class, It's nice to have conversations with students outside of the classroom. And I think that's probably what I've enjoyed the most."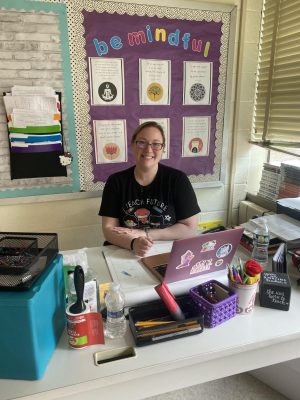 Ms. Bleach: "It's comforting. All of my colleagues are really supportive, the administrators are supportive, and you know, the students have been great. Being in a small school, getting to know everyone, and just, you know, collaborating or working together. It's nice. We aren't doing everything on our own. As scientists we always love to share new things. Being able to share that and then share it with colleagues and interacting with other people. It's been awesome."
Mr. Makmur: "The people. Everyone has been super understanding and encouraging, from students, to other teachers, to administrators. I don't know how successful I would have been without the support structure around me. Getting to know the students at this school has been super rewarding as well, and I'm so excited to see where their journey takes me next."